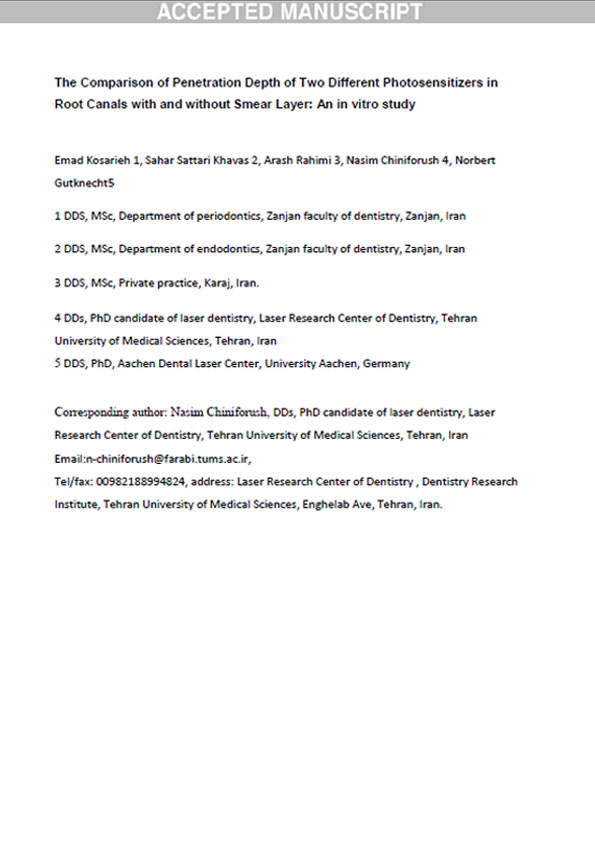 THE COMPARISON OF PENETRATION DEPTH OF TWO DIFFERENT PHOTOSENSITIZERS IN ROOT CANALS WITH AND WITHOUT SMEAR LAYER: AN IN VITRO STUDY
Emad Kosarieh, Sahar Sattari Khavas, Arash Rahimi, Nasim Chiniforush, Norbert Gutknecht
Abstract
Background: The main objective of this study is to evaluate the penetration depth of suggested photosensitizers in the lateral wall of the human root canal.
Materials& Methods: Forty extracted single-rooted human teeth with straight canals that extracted for periodontal reasons were collected and stored in the sterile saline until employment in the experiment. Teeth were decoronated to a standard 12mm root segment using diamond disc. After instrumentation of specimens, the external root surface was sealed with two layers of nail polish to avoid environmental contamination. The apical foramen was subsequently closed with composite material. Teeth were divided randomly in two major groups consist of indocyanine green solution (ICG) and tolonium chloride solution (TCH) with and without EDTA in their subgroups. Specimens in all groups grooved longitudinally with a diamond disc and split in two halves with a stainless steel chisel. The measurements were done by the stereo microscope under 20X magnification in three zones of each specimen and the penetration depth of dye was measured.
Results: The results of this study showed that the mean of lateral penetration depth of ICG (224.04μm) was significantly (P<0.05) higher than TCH (70.15μm). Regarding to the influence of EDTA, in ICG group without consideration to the different regions, the usage of EDTA improved the mean of lateral penetration depth of ICG, but this improvement was not statistically significant (P>0.05).
Conclusion: Further to the findings of this study, it could be assumed that ICG could penetrate in deeper regions of the root canal wall.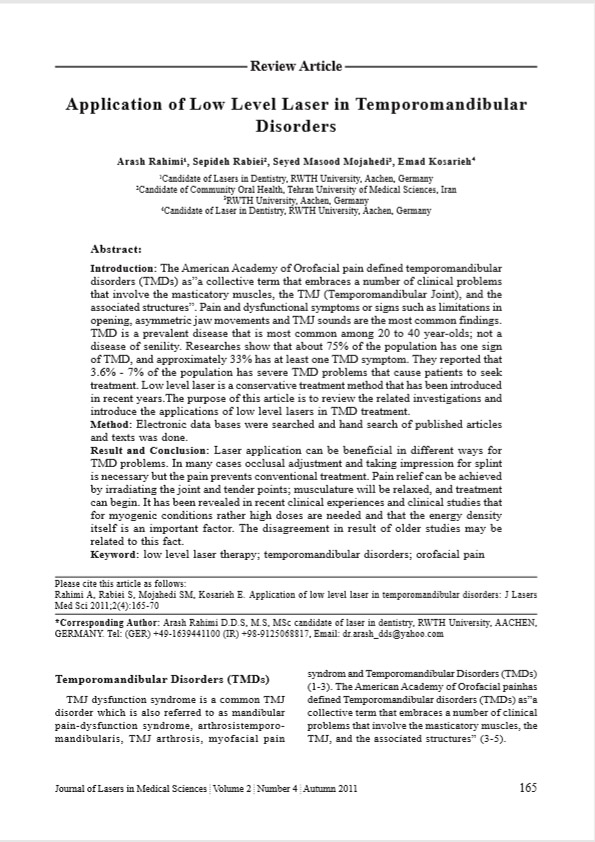 APPLICATION OF LOW LEVEL LASER IN TEMPOROMANDIBULAR DISORDERS
Arash Rahimi, Sepideh Rabiei, Seyed Masood Mojahedi, Emad Kosarieh
Abstract
Introduction: The American Academy of Orofacial pain defined temporomandibular disorders (TMDs) as a collective term that embraces a number of clinical problems that involve the masticatory muscles, the TMJ (Temporomandibular Joint), and the associated structures". Pain and dysfunctional symptoms or signs such as limitations in opening, asymmetric jaw movements and TMJ sounds are the most common findings. TMD is a prevalent disease that is most common among 20 to 40-year-olds; not a disease of senility. Researches show that about 75% of the population has one sign of TMD, and approximately 33% has at least one TMD symptom. They reported that 3.6% to 7% of the population has severe TMD problems that cause patients to seek treatment. Low level laser is a conservative treatment method that has been introduced in recent years. The purpose of this article is to review the related investigations and introduce the applications of low level lasers in TMD treatment.
Method: Electronic data bases were searched and hand search of published articles and texts was done.
Result and Conclusion: Laser application can be beneficial in different ways for TMD problems. In many cases occlusal adjustment and taking impression for splint is necessary but the pain prevents conventional treatment. Pain relief can be achieved by irradiating the joint and tender points; musculature will be relaxed, and treatment can begin. It has been revealed in recent clinical experiences and clinical studies that for myogenic conditions rather high doses are needed and that the energy density itself is an important factor. The disagreement in result of older studies may be related to this fact.